Original from HK01 | Social News | [Immigration Wave] Post-90s Boss Leads His Own Programming Team to Help Hong Kong People Move to Canada
Canada has recently launched a visa policy for Hong Kong people. Many Hong Kong people have been paying attention to immigration information and visiting different immigration consultants in order to have more choices for the next generation, hoping to catch the "last train" before the deadline for the relevant policies. There are many immigration companies in the market, how to choose? How can a rising star win in adversity?
The two post-90s bosses started to take over the Hong Kong branch of the immigration company a few years ago. Unexpectedly, this is not the first time the two have become bosses. The University of Hong Kong graduate Oscar Yip is the founder of a former science park technology and innovation company, which is also one of the approved suppliers of government technology vouchers. Knowing the market sensibility, Oscar and his good friend Fergus Wu saw the increasing demand for programming and writing business plans required by the Canadian Federal Entrepreneurship Immigration Program (SUV), so they decided to move from logistics to front-line positions and lead their own programming team. Taking into account the company's management and business development, he became the director of the Hong Kong branch of Global Immigrate.
Rebound Successfully from the Trough
Many people think that the work of company directors must be easy and that they only need to make major decisions and approve the administrative work of their subordinates. Unexpectedly, Oscar and Fergus have also experienced a period of a low ebb. "Hong Kong's business is self-financing and we need to be responsible for the decisions we make. In the early stage of the company's operations, due to the quarterly performance failure, we were judged by the Canadian head office executives three times, questioning our management capabilities, and It requires monthly performance reports," Oscar said. When the company's performance was unsatisfactory, the two were also discouraged for a while, and even doubted whether the immigration industry was suitable for them. "My father thinks this industry has not many new immigration companies around and has no prospects," and even suggested that I should "leave the market" as soon as possible and help the family business," Fergus added. Fortunately, friends around him continued to encourage them. The two reviewed the management strategy in due course. In the next quarter, they successfully increased their performance by 300% and moved to a new office building a year earlier than expected.
Talks about Different Immigration Plans Every Week by Oscar and Fergus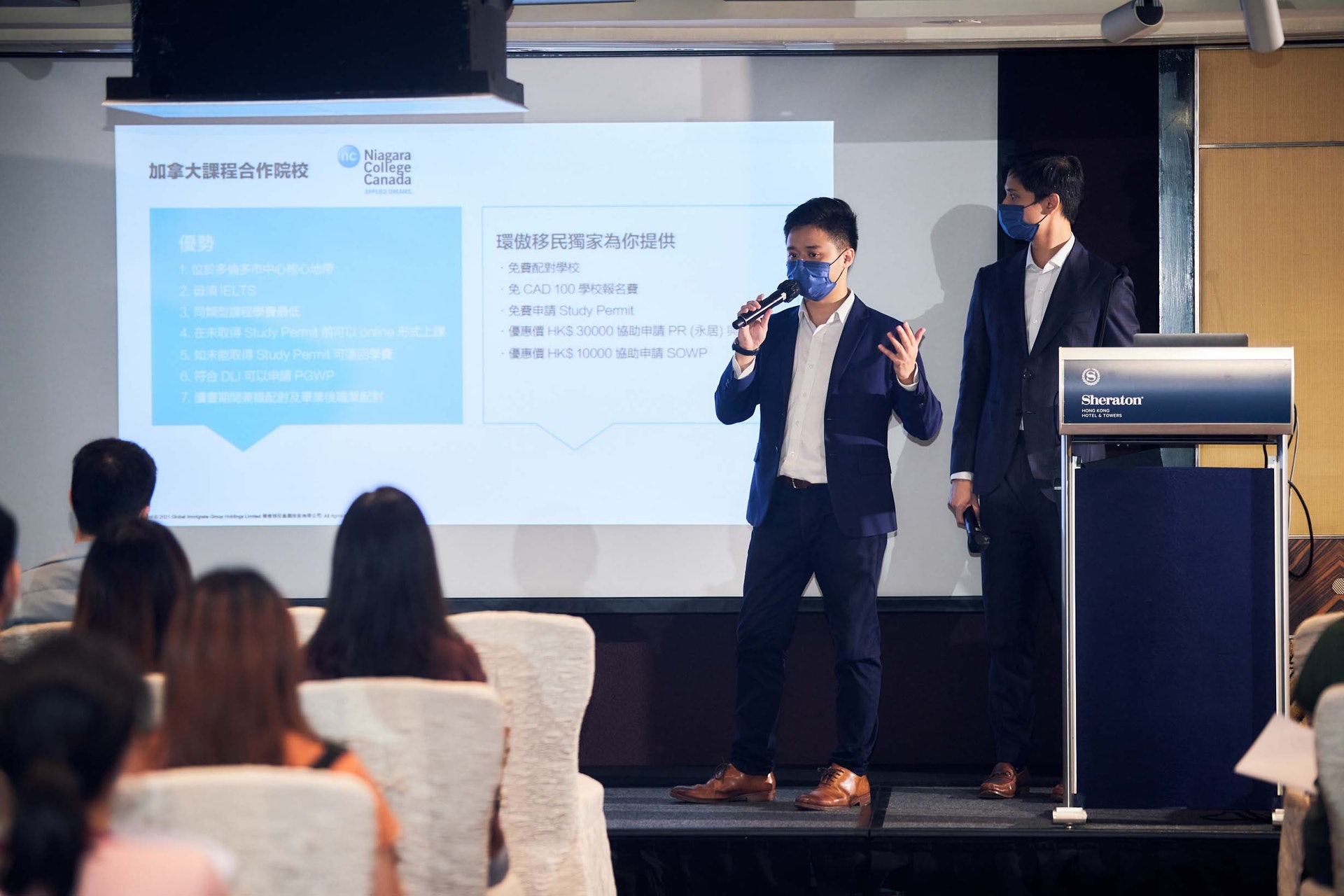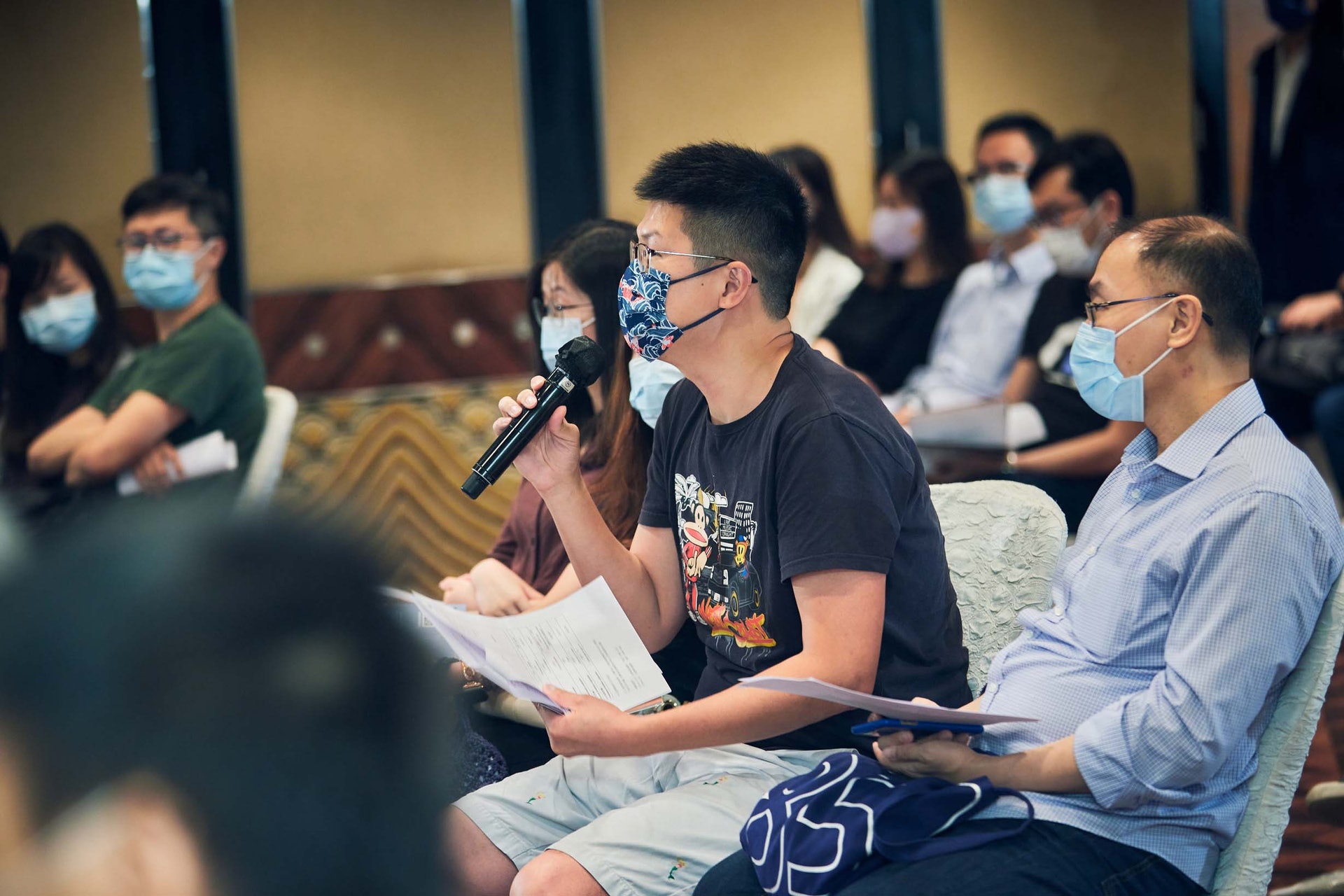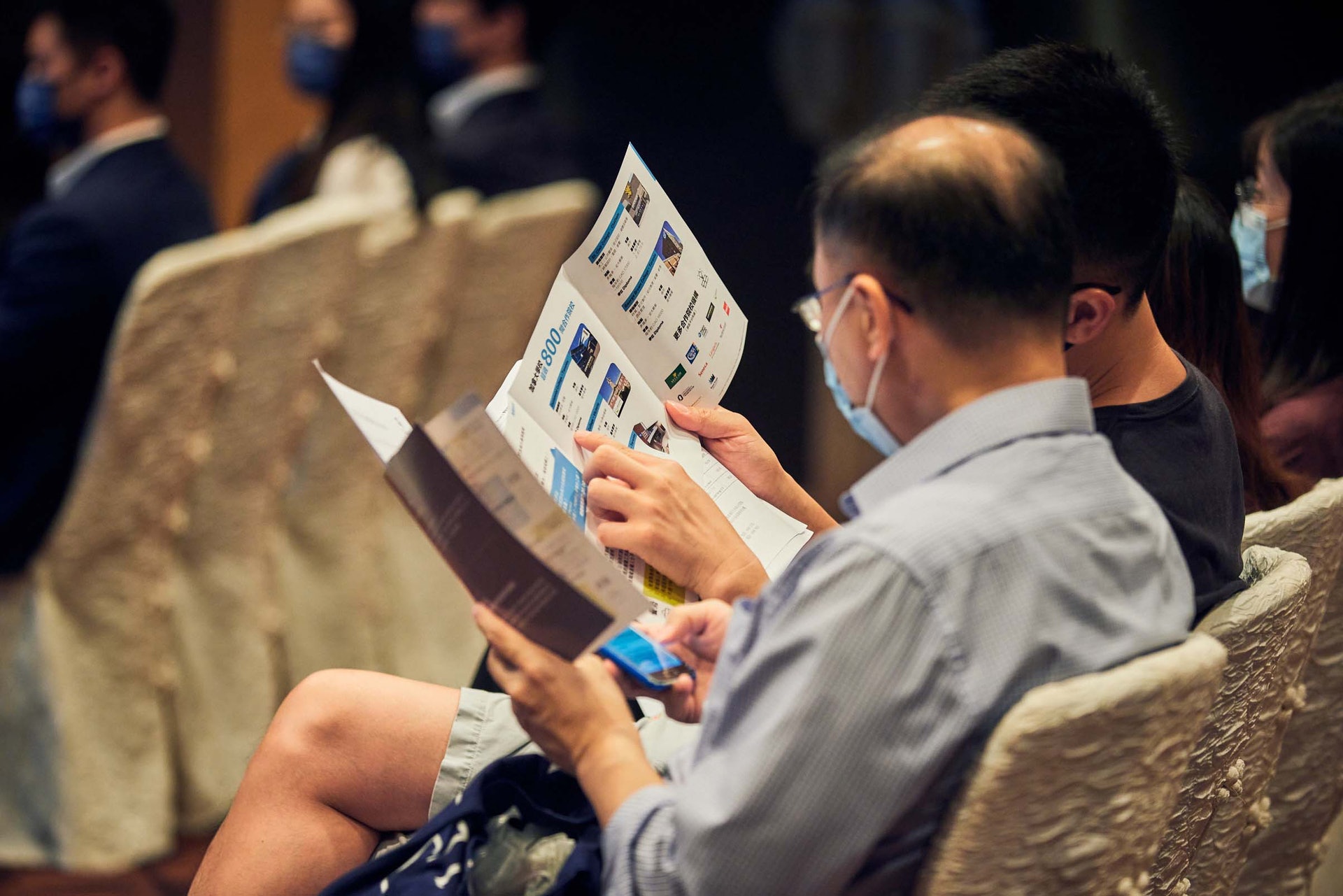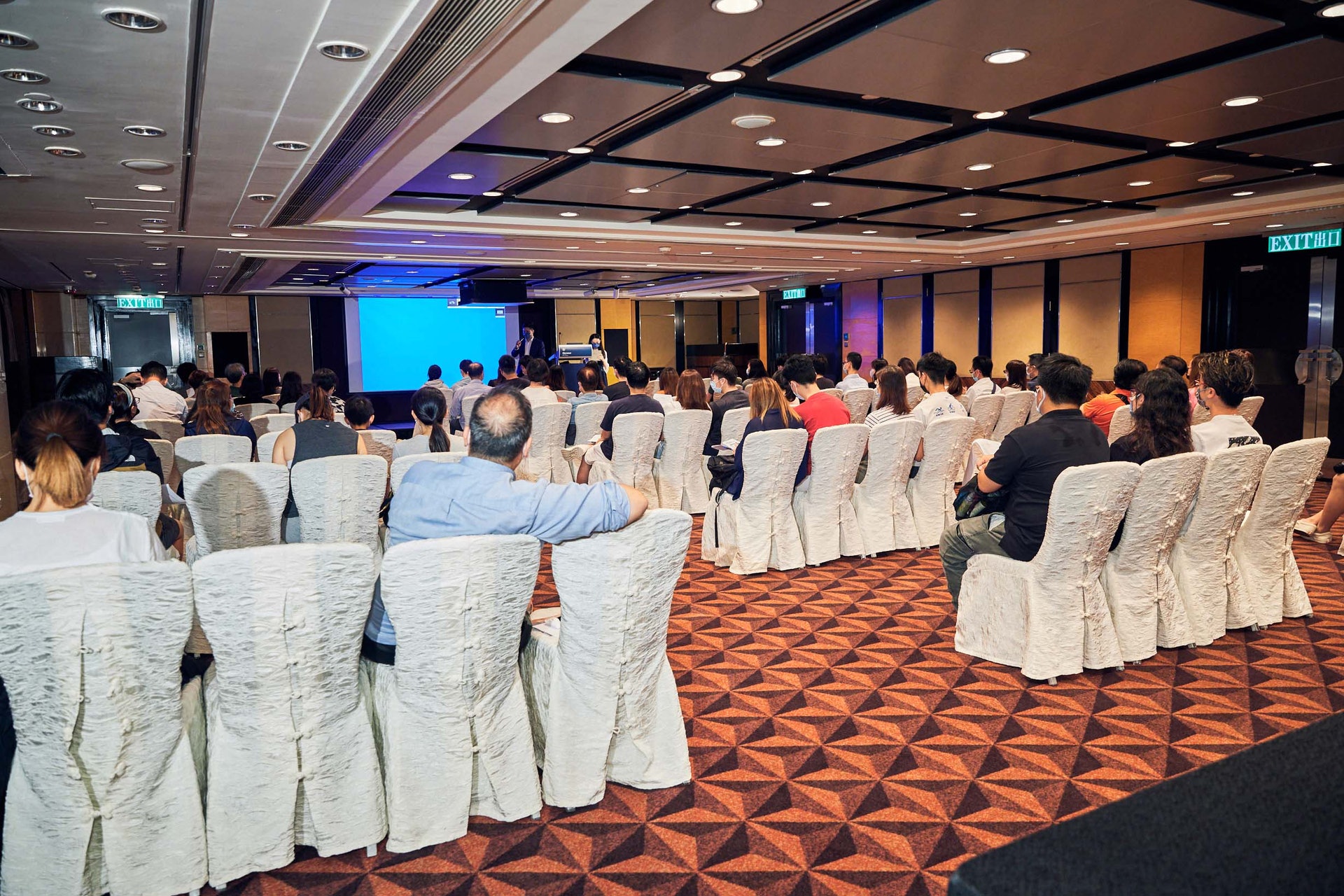 The Secret of Attracting Customers Successfully
Oscar and Fergus will hold free talks on different immigration plans each week. Including the recent popular talk "2 Pathway for Hong Kong Residents", "Canada Start-Up Visa (SUV)" and "Atlantic Immigration Pilot Program (AIPP)" to increase opportunities to reach young customers in the market.
"We focus on SUVs that have relatively low application thresholds and are suitable for personal career development in Canada. In the early days of the launch of the plan, only two people registered for the seminar, which made the morale of the entire company very low." Fergus continued. The two led a professional team to immediately review the marketing strategy at the time, and successfully absorbed the younger generation who wanted to move to Canada, including the fresh graduates from university, and those born in the 70s and 80s who were worried about the future of Hong Kong. In 3 years, the number of consultations exceeded 50,000 people and successfully assisted more than 100 families immigrating to Canada.
On June 8, Canada's Federal Ministry of Immigration, Refugees and Citizenship released two new measures for the "2 Pathway for Hong Kong Residents". The plan was just launched, and it immediately caused a lot of talk in the community. Global Immigrate launched 4 free seminars in two weeks. Among them, two seminars on the "2 Pathway for Hong Kong Residents" with more than 100 people were hosted at the Sheraton Hotel on June 25. At present, more than 50 people attend the seminars every week.
In addition to the "2 Pathway for Hong Kong Residents", the Canada Start-Up Visa (SUV) is another popular project and the company's main immigration program. More than 80% of existing customers choose SUV to move to Canada. The biggest advantage is that the applicant can stay in Hong Kong to continue working throughout the entire process without having to travel to Canada in person, and the applicant does not need to have any business or management experience requirements in Hong Kong. According to Oscar, the whole family can obtain a work permit within 4 months at the earliest, and, the whole family can obtain permanent resident status in Canada within 12 to 18 months at the fastest. No need to study or work in Canada. "To be honest, many customers asked us because the price of the Stream A & B was affordable, but in the end they would choose other plans. We would recommend suitable plans to them based on their backgrounds and requirements. Some plans with higher service fees are cost-effective for the customer," Fergus explained.
Helping Hong Kong People to Achieve Milestones with Original Intentions
"Immigration consultants are a beautiful industry. Perhaps out of every 100 consultants, only 5 will sign a contract. Immigration is one of the biggest decisions in life. It is not always possible for everyone to make a decision within two or three days. They only choose us as consultants." Oscar said with a smile.
In the face of fierce competition in the industry, Oscar and Fergus are more hands-on in everything. From consultation and evaluation to finally helping clients obtain PR (permanent residence), the two and their own professional team provide clients with all-in-one immigrant visa services, school and job matching, landing and settlement services (including real estate and medical insurance) for help. In the shortest possible time, customers can meet the Canadian visa standards at the most affordable price, practice the dream of immigration, and start a new life in Canada with peace of mind.
Recently, many Hong Kong people have been actively consulting, and there are more and more customers. Oscar and Fergus continue to stick to their original enthusiasm. From consulting to obtaining permanent residence for each case, they and their professional team provide customers with one-stop immigration visa services, allowing customers to reach Canada in the shortest possible time and at the most favorable price. The standard of the visa program, the next milestone in life. "We hope that the people of Hong Kong will continue to maintain their perseverance and perseverance. After many years, the descendants of Hong Kong people will still be able to shine in different fields." Fergus continued.
In the short term, Global Immigrate plans to expand the company's business to other popular destinations for Hong Kong people, including the United Kingdom and Australia, to provide a series of immigration visas, overseas property purchases and further education services.
Learn more about Global Immigrate:
WhatsApp: 6888 4742 (https://bit.ly/GI_hello)
Phone: 2566 5066
Website: https://www.globalimmigrate.com
Pathways for Hong Kong Residents: https://bit.ly/GI_2pathways
Start-Up Visa Program: https://bit.ly/GI_SUV
Book a free consultation now: https://bit.ly/GI_freeconsultation
Latest activity: https://bit.ly/GI_FreeTalks
Facebook: Global Immigrate
Instagram: @globalimmigrate
Global Immigrate will set up a booth (Booth No.: G1) at the "International Immigration and Property Expo" at the Wanchai Convention and Exhibition on August 28 – 29, 2021. Our professional immigration consultants will explain the Canadian visa application requirements and process face to face with everyone. Look forward to it!